We are pleased to announce that the Bannister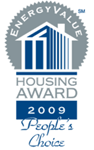 High Performance House was a 2009 EVHA Award Winner and was also awarded the 2009 EVHA People's Choice Award.
---
Award-winning architect William Peck, (William Peck & Associates) and builder Chris Miles (GreenCraft Builders LLC) have teamed up to build this unique, affordable, and environmentally friendly home.
The Bannister High-Performance House is a demonstration project for the US Department of Energy's "Building America" program to encourage homeowners and builders to live and build in a more fiscally and environmentally sensible manner. The Building Science Consortium has included this home as one of their national projects for 2007. Additional certifications will include:
USGBC LEED-H
Dallas HBA Green Built North Texas
Groundbreaking: March 1, 2007
Completion: September 1, 2007
A circa 1900 folk vernacular style, the Bannister High-Performance House started construction in March 2007, on Ball Street in Grapevine, Texas, just 4 blocks west of historical downtown Main Street. The Bannister House will host several consumer and builder educational events and tours.